24.08.11
Le Sud Africain Adam Morley gagne les éliminatoires du Sintra Pro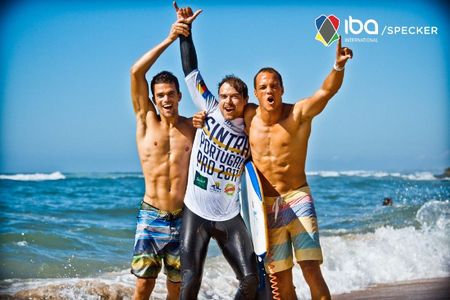 Cliquer ICI pour voir la video des trials.
| | |
| --- | --- |
| Adam Morley (Mossel Bay, Afrique du Sud) vainqueur des éliminatoires du Sintra Pro 2011, dans des vagues de 1m50 à Praia Grande.IL a reussi descombinaisons d'air roll spins pendant ses séries, sécurisant sa place parmi les huit qualifiés pour le Grand Slam. Morley commentait à sa sortie de l'eau :"Je suis sous le choc d'avoir gagné ces qualifications aujourd'hui, mais le vrai boulot ne fait que commencer à partir de maintenant, avec trois SUd Af dans le Grand Slam. J'ai hâte de me retouver avec Jerry et Ben dans ma première série." Morley va en effet retouver son compatriote Jared Houston, Ben Player et un autre qualifié, le Canarien Kevin Orihuela, dans la série 3 du tour 1 du GSS. Dave Hubbard (Hawai) ne participant pas au contest de Sintra, il il a donc neuf places à prendre pour sept qualifiés et deux wild cards. | Morley wins trials at Sintra Posted on August 24, 2011 Adam Morley (Mossel Bay, ZAF) has taken out the 2011 Sintra Portugal Pro trials in very contestable 1.5 meter waves at Praia Grande. Morley managed to link up clean air-roll-spin to roll combinations throughout the day, securing him a well deserved 2000 points towards his 2012 Grand Slam qualification campaign. Morley commented: "I am so stoked to win today's trials, but now the real work starts." Morley added, "It will be epic to have three South African's in a Grand Slam event. I look forward to surf against and with Jerry and Ben in my first heat." Morley will face fellow South African, Jared Houston, 2x World Champion, Ben Player (Avalon/AUS) and trials runner up, Kevin Orihuela (CNY) in heat 3 of the Grand Slam event. Top 24 rider Dave Hubbard (HAW) will not be competing in the Sintra Portugal Pro, making an extra slot available in the main event. Taking the nine available slots in the GSS main event, will be the top 7 placed riders of the trials and the 2 wildcards. |
Qualifiés 1. Adam Morley (ZAF) 2. Kevin Orihuela (CNY) 3. Airam Cabrera (CNY) 4. Sergio Alonzo (VEN) 5. Roberto Bruno (BRA) 6. Jones Russel (AUS) 7. Luis Villar (BRA)
Wildcards 1. Julien Miramont (FRA) 2. Goncalo Faria (POR)
Sintra Portugal Pro Round 1 match-ups
Heat 1: Amaury Lavernhe (REU), Uri Valadao (BRA), Eder Luciano (BRA), Jones Russel (AUS)
Heat 2: Pierre-Louis Costes (FRA), Mike Stewart (HAW), Lucas Nogueira (BRA), Roberto Bruno (BRA)
Heat 3: Jared Houston (ZAF), Ben Player (AUS), Adam Morley (ZAF), Kevin Orihuela (CNY)
Heat 4: Jeff Hubbard (HAW), Damien King (AUS), Gastao Entrudo (POR), Goncalo Faria (POR)
Heat 5: Guilherme Tamega (BRA), Jake Stone (AUS), Diego Cabrera (CNY), Julien Miramont (FRA)
Heat 6: Magno Oliveira (BRA), Dave Winchester (AUS), Yeray Martinez (CNY), Airam Cabrera (CNY)
Heat 7: Mark McCarthy (ZAF), Dallas Singer (AUS), Guilherme Cobo (ESP), Sergio Alonzo (VEN)
Heat 8: Ryan Hardy (AUS), Michael Novy (AUS), Manuel Centeno (POR), Luis Villar (BRA)

Suivez les épreuves en live à partir de jeudi ou vendredi sur www.ibaworldtour.com/live. .. Check in July 25th 8h30.
Commentaires sur Qualifications Sintra Pro 2011