21.08.11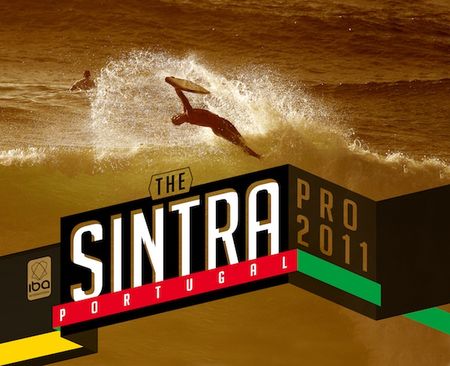 Sintra Portugal Pro
Event 5 of 8, Mens Grand Slam Series
Sintra, Portugal
22-28 Aug 2011
ibaworldtour.com
Praia Grande, Sintra, Portugal (Sunday, Aug 21, 2011) - The Sintra Portugal Pro is event 5 of 8 on this years Mens GSS, marking the start to the second semester of the 2011 World Title race. Never before has the field of competitors vying for a World Title been as internationally diverse throughout the Mens GSS, Women's GSS and DKWT seedings. Being the longest running event on the calendar and contributing 2000 points towards the Mens and Women's GSS Tours as well as a 1000 points for the DKWT, makes Sintra a highly anticipated event, bringing together all divisions and nationalities of the sport.
The event trials are scheduled to tomorrow (Monday, 22nd) as a small 2-3 foot swell is predicted to push in. With 2 to 3 days of trials ahead, the Top 24 will be watching and preparing for their GSS heats later in the week, where they will meet the 2 Wildcards and 4 successful trialists in the first round of the leaderboard phase.
Going into the 2011 Sintra Portugal Pro the Top 10 Mens, Women and DK riders are:
Mens GSS
1. Jeff Hubbard (HAW) 6220 Points
2. Guilherme Tamega (Copacabana/BRA) 5550 Points
3. Ryan Hardy (Margaret River/AUS) 5384 Points
4. Mark McCarthy (Richards Bay/ZAF) 4940 Points
5. Magno Oliviera (Guarapari/BRA) 4840 Points
6. Pierre-Louis Costes (Capbreton/FRA) 4680 Points
7. Jared Houston (Cape Town/ZAF) 4620 Points
8. Amaury Lavernhe (REU) 4580 Points
9. Dallas Singer (Newcastle/AUS) 4540 Points
10. Ben Player (Avalon/AUS) 4480 Points
Women's World Tour
1. Neymara Carvalho (BRA) 2000 Points
2. Eunate Aquirre (SPN) 1720 Points
3. Stephanie Petterson (AUS) 1460 Points
4. Minami Hatekayama (JPN) 1340 Points
5. Maylla Venturin (BRA) and Luzmarie Grandperez (PR) both with 1220 Points
7. Miya Inoue (JPN) and Claudia Ferrari (HAW) both with 1110 Points
9. Izamar Vivas (VNZ) and Isabella Souza (BRZ) both with 1000 Points
DKWT
1. Damien King (Port Mac, AUS) 3000 Points
2. Cesar Bauer (PER) 2940 Points
3. Amaury Lavernhe (REU) 2440 Points
4. Micah McMullin (HAW) and Ardiel Jimenez (CNY) both with 2220 Points
6. Kim Feast (AUS) and Dave Hubbard (HAW) both with 2000 Points
8. Jeff Hubbard (HAW) 1720 Points
9. Gadiel Ruiz (PR) 1610 Points
10. Dave Winchester (Mullumbimby, AUS) 1460 Points
Visit the IBA website for all updates and live action of the main event.
Join the IBA facebook page and win IBA World Tour paraphernalia.
Shop online at the IBA store where you can get you hands on limited Pipeline and Box event T's.
Don't miss a beat, with the new IBA Tour Guide iPhone App to stay in the loop where ever you are.
Fans can have fun playing the wave of the event on YouRiding BODYBOARDING online game.
This IBA Grand Slam will be live on www.redbull.com
Commentaires sur SINTRA PORTUGAL PRO IS SET TO GO