19.05.11
El Gringo : big swell is on!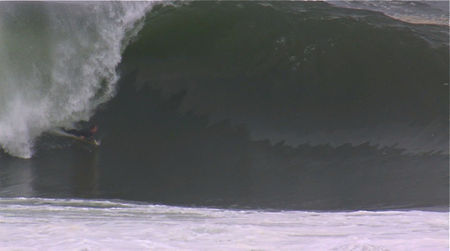 "Amaury just seems so comfortable in the barrel especially when its big". (Jared Houston)
"Amaury a l'air si à l'aise dans le barrel, surtout quand c'est du lourd! "
Le Pérou, c'est fini ! Après une semaine au Pérou, où j'ai passé d'excellents moments avec les Australiens, je suis finalement arrivé à Arica,une de mes destination préférées: ARICA!! La compétition Péruvienne était plutôt pas mal, les vagues quelconques et l'Australie a tout raflé : le sang jeune de Sam Bennet s'est imposé en prone, et Damian King a remporté le DK. Il est en tête du classement de DK et moi je suis en troisième position. En prone, j'ai eu une série difficile au round 4 contre le Portugais Manuel Centeno : les vagues étaient inconsistantes et il a eu deux bonnes vagues au début, j'ai fini 9ème.Le classement ne compte pas pour le classement GSS. C'était une mise en jambes pour la prochaine étape au Chili, 3ème étape GSS du Tour 2011.




VIVA ARICA!!! Une grosse houle a atteint la côte mardi et nous avons surfé El Gringo dans du 10-12 pieds (3-4 mètres!). La gauche était un peu trop dingue donc la plupart des riders ont surfé la droite qui était vraiment hard à surfer, des vraies bombes.C'est vraiment difficile de se lancer. Après quelques heures, les séries étaient un peu moins monstrueuses et j'ai décidé d'essayer la gauche. J'ai eu une vague formidable puis une seconde que j'ai payée en en prenant plein la tête. C'est tellement puissant et j'ai eu une belle trouille ! Mais c'était grisant. Mercredi les vagues étaient vraiment bonnes, un peu moins énormes et tous les gars ont déchiré. Vendredi 20 les qualifications seront lancées jusqu'à Dimanche. Lundi 23, la période d'attente commencera.

www.ibaworldtour.com Cliquer sur "live"

Décalage horaire : quand il est 15h à Paris, il est 9 h du matin à Arica.

Peru is over ! After a week in Peru where i had some much good time with all the aussies, i finally arrived to one of my favorite destination, ARICA !!The contest in Peru was pretty nice, waves were average and Australia won everything. The young blood Sam Bennett killed it in the prone divison and Kingy won the DK. He is actually first at the ranking at the moment and I'm getting 3rd with a 5th place overthere.




In prone I had a hard heat against Centeno..waves were inconsistent and he had two good waves at the beginning.I finished 9th. Actually this comp wont count for the GSS ranking, it was a training before Chili, the 3rd step of the GSS.

VIVA ARICA !!! A big swell heat the coast yesterday and we surfed 10-12 feet Gringo. The left was a bit too crazy so most of the riders surfed the right that was pretty hard to ride, really bumpy.its really hard to get the good line there. After few hours, sets were less consistent and I decide to try the left. I had a really good one and a second one that I paid with a massive set in the head at the worst spot..its so powerfull and i get pretty scared!!

Today waves been really good, a bit smaller and all guys were ripping. On Friday the trials will start until Sunday, then Monday the waiting period for the main event will start.

www.ibaworldtour.com Clic on "live" on the home page

Time lag : when it's 3 pm in Paris, it' 9 am in Arica
Commentaires sur Peru is over, viva Arica !